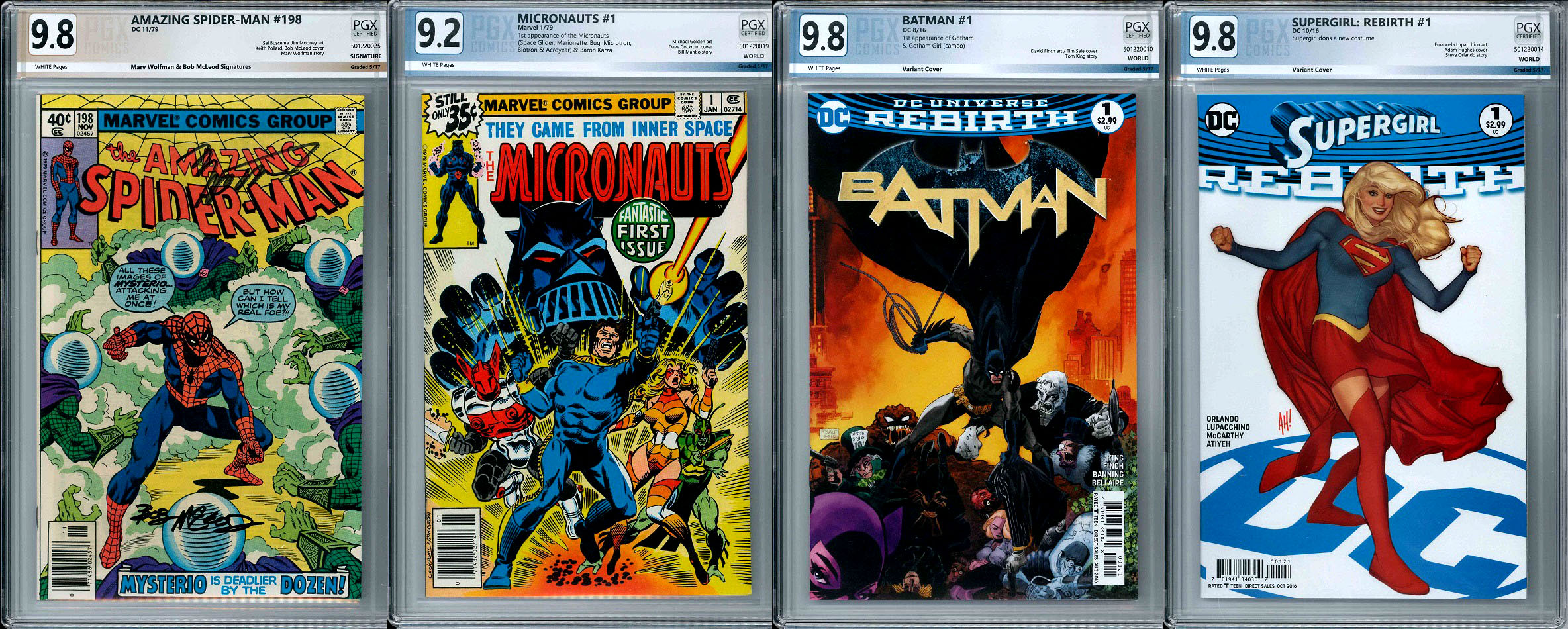 PGX was established in 2002 to meet the growing demand for impartial, third-party grading and continues to be the fastest, most affordable grading service in the industry. With over 150+ years of combined experience in condition evaluation and restoration detection, you can be confident that books graded and encapsulated by PGX have been thoroughly inspected for authenticity, completeness and any possible restoration.
We offer a variety of services at a flat rate with no mark-up based on the value of your books under $4,000 and we do not require any membership or membership fees. Plus, there's no need to drop your books off with a third-party to use our service. Just send them directly to us. It's that easy!
PGX graded books are sealed in our exclusive Free-Floating Holder with Ultra-Violet Light Protection to discourage possible fading (for those who like to display their books). Plus, our Shatter-Resistant Cases are designed to seal at all four corners allowing for minimal pressure on the sides which helps to prevent any unintended aesthetic damage (such as waviness or Newton's rings).
As an added safety measure, our labels are sealed with the book to prevent tampering. Our label varieties include the Blue Label World Grade, Gold Label Signature Grade and Green Label Restored Grade.
Grading Services:
---
MODERN COMIC GRADING (1978-CURRENT)
$13.00 PER BOOK
STANDARD COMIC GRADING (1961-1978)
$

20.00 PER BOOK
GOLDEN AGE COMIC GRADING (Pre-1961)
$28.00 PER BOOK
---
Standard turnaround time is approximately 30 business days or you can choose a faster service with one of the following options:
---
Express Grading Service (12 Business Days) is $6.00 per book
Next Day Service (3 Business Days) is $40.00 per book

*All turnaround times are estimates
---
Pressing & Cleaning Services:
---
Modern Pressing & Cleaning (1978-current)

$13.00 per book

Standard Pressing & Cleaning (pre-1978)

$25.00 per book

---
Signature & Art Authentication:
---
$15.00 per Signature/Sketch*
---
*For books with multiple signatures, the cost is $15.00 for the first signature and $10.00 for each additional.
---
Witnessed Signatures: $8.00 each
---
*Witnessed signature service is only for books where the signature was witnessed being signed.
We accept payment made by credit card, personal check, money order or we can send you an invoice via PayPal using your PayPal email address.
*Grading Fee Exception: Books that have a FMV of $4,000 or more have a fee of 1.5% with a fee cap of $500.
**Pressing Fee Exception: Books that have a FMV of $4,000 or more for pressing have a fee of 1.5% with a fee cap of $500.
Original fees are included in the 1.5%.
RETURN SHIPPING – CONTACT FOR INTERNATIONAL RATES
---
Interactive submission form will
calculate shipping automatically (Active Now)

---
Please note that we can only ship up to 30 books in one box so please take this into account when submitting larger orders. Also, pressing is a very delicate process, so please be aware that it could add time to the Express and Next Day Grading Services.
We are unable to encapsulate Certificate's of Authenticity or any bags and boards of any kind. We will return COA's or other misc. items if requested but we do not guarantee they will be returned.

Insurance is required on all orders and should be purchased based upon the fair market value of your books (as determined by you).
Once your order arrives in our facility, we will send you a confirmation email with your expected turnaround date.
This submission form is super easy to fill out. It calculates all the costs for you.
If you have any problems with the submission form, please contact us or use the old submission form.