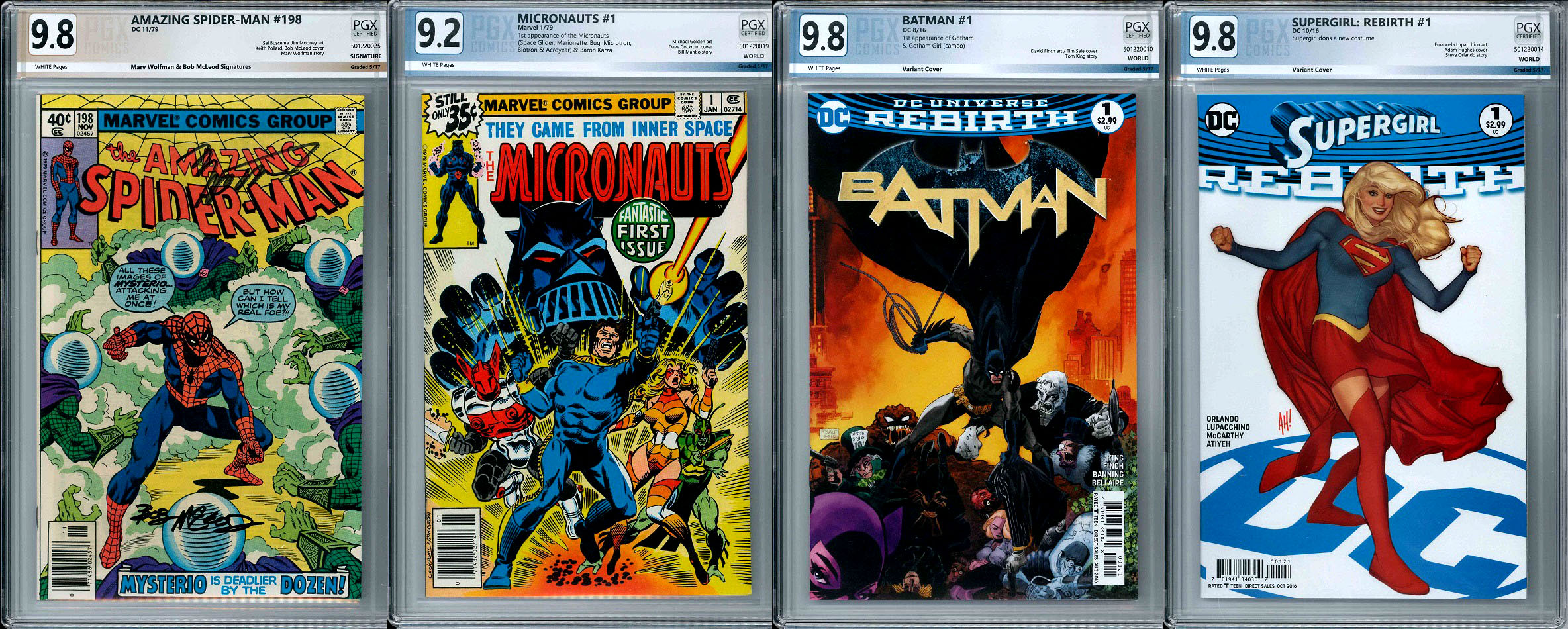 PGX Announcement!
Professional Grading Experts (PGX) Comics is announcing that they have partnered with one-time CGC Vintage Comic Grader, Rob Pillsbury, to give the certified collectibles industry PGX Comics East.  PGX East is based in Venice, FL.
Founded in 2002, PGX (Professional Grading eXperts) is the second oldest comic book grading company in the world. PGX was established to meet the growing demand for impartial, third-party grading and continues to be the fastest, most affordable grading service in the industry. 
PGX East is excited to be offering several industry firsts.  Original Art (OA) Certification and Preservation and Prints and Posters grading.  PGX East is thrilled to have a one-time CGC Rock Concert Poster finalizer and Paper Money expert, Troy Vogel, on the team.  For a time, Troy was solely finalizing every Rock Concert Poster.  Troy also has over 10 years of paper money grading experience and will be leading PGX-PM, offering Paper Money Certification.  Troy will also be working towards becoming a comic book grader.  Having over 30 years of comic collecting experience, it should come quickly.
PGX was established in 2002 to meet the growing demand for impartial, third-party grading and continues to be the fastest, most affordable grading service in the industry. With over 150+ years of combined experience in condition evaluation and restoration detection, you can be confident that books graded and encapsulated by PGX have been thoroughly inspected for authenticity, completeness, and any possible restoration.
We offer a variety of services at a flat rate with no mark-up based on the value of your books under $4,000 and we do not require any membership or membership fees. Plus, there's no need to drop your books off with a third party to use our service. Just send them directly to us. It's that easy!
Grading Services:
---
MODERN COMIC GRADING (1978-CURRENT)
$14.00 PER BOOK
STANDARD COMIC GRADING (1961-1978)
$

20.00 PER BOOK
GOLDEN AGE COMIC GRADING (Pre-1961)
$28.00 PER BOOK
---
The standard turnaround time is approximately 40 business days or you can choose a faster service with one of the following options:
---
Express Grading Service (12 Business Days) is $6.00 per book
Next Day Service (3 Business Days) is $40.00 per book

*All turnaround times are estimates
---
Pressing & Cleaning Services:
---
Modern Pressing & Cleaning (1978-current)

$14.00 per book

Standard Pressing & Cleaning (pre-1978)

$25.00 per book

---
Signature & Art Authentication:
---
$15.00 per Signature/Sketch*
---
*For books with multiple signatures, the cost is $15.00 for the first signature and $10.00 for each additional.
---
Witnessed Signatures: $8.00 each
---
*Witnessed signature service is only for books where the signature was witnessed being signed.
We accept payment made by credit card, personal check, or money order or we can send you an invoice via PayPal using your PayPal email address.
*Grading Fee Exception: Books that have a FMV of $4,000 or more have a fee of 1.5% with a fee cap of $500.
**Pressing Fee Exception: Books that have a FMV of $4,000 or more for pressing have a fee of 1.5% with a fee cap of $500.
Original fees are included in the 1.5%.
RETURN SHIPPING – CONTACT FOR INTERNATIONAL RATES
---
The interactive submission form will
calculate shipping automatically (Active Now)

---
Please note that we can only ship up to 30 books in one box so please take this into account when submitting larger orders. Also, pressing is a very delicate process, so please be aware that it could add time to the Express and Next Day Grading Services.
We are unable to encapsulate Certificates of Authenticity or any bags and boards of any kind. We will return COAs or other misc. items if requested but we do not guarantee they will be returned.

Insurance is required on all orders and should be purchased based upon the fair market value of your books (as determined by you).
We do not offer encapsulated grading for magazines or comics with margins that exceed the capacity of our cases. If a comic that exceeds the capacity is submitted, said book will be returned upon completion of the rest of the submission. No charge will be remit for grading of the book, but the cost of return shipping will be charged. (Maximum size is based on standard Golden Age margins with a page limit of approximately 80 pages).
Once your submission has arrived at our facility and has gone through initial processing, we will send you a confirmation email with your estimated turnaround date. This process may take up to 3 days.
This submission form is super easy to fill out. It calculates all the costs for you.
If you have any problems with the submission form, please contact us or use the old submission form.